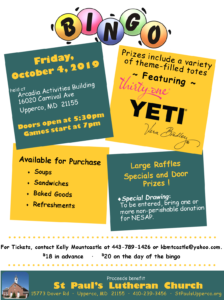 August / September Church Events
St. Paul's Movie Night
Come join us to see "Miracles from Heaven" out under the pavilion on
Friday, August 16th, 8:00pm.
Volunteering at First Fruits Farm
This joint event between northeast Carroll County Lutheran churches is the morning of Sept. 14th. All ages are welcomed as long as they are able to do manual labor. Contact Sandy Baber for rides / info.
St Paul's Flea Market
Saturday, August 17th & September 21st, 8:00am – 2:00pm. Spaces still available. Registration forms are online at: http://stpaulsupperco.org/flea-market/

First Day of Sunday School
Sunday, September 15th, 10:15am. Come grow your faith by leap and bounds!
Council Meetings
The upcoming council meetings are August 20th & September 17th at 7:00pm. Please give any topics for discussion to them before these dates.
Confirmation Class Organizational Meeting
Sunday, September 15th, 10:15am. Pr Carl will meet with all those who will be in this years confirmation program. That includes the 2 who have completed 1 year confirmation, and anyone who is in the 7th grade or older who has not completed confirmation prepreparation.
Rally Day & Church Picnic
Sunday school season will begin on Sept. 8th. All are welcome to enjoy food & fellowship with a pot luck lunch after the service. The youth will have an activity outside/inside, depending on the weather.
Shared Ministry Planning
The next meeting will be held at St. Mark's, Snydersburg on Monday, September 16th at 7:00pm.
Music & Worship Planning Meeting
Monday, September 9th at 12:30pm.
St. Paul's Movie Night
Come join us to see "I Can Only Imagine" out under the pavilion on
Friday, September 20th, 8:00pm.
Adult Bible Study
Adult Bible Study will be held on Tuesday, September10th & 24th at 7:00pm. Present plan is to close out the "Understanding the Bible" from last year & discuss new beginnings.
St. Paul's B-I-N-G-O event
Friday, October 4th. Doors open 5:30pm, games start at 7pm at the Arcadia Activities Building. Please see the sign-up sheet on the community bulletin board if you would like to donate items.
Come to our Blood Drive scheduled for Saturday, September 28th and be someone's hero. Please call or email Suzi Lyons to make your appointment.
443-375-2424 suzi.ray@comcast.net
Outreach has purchased supplies for backpacks that will be assembled & delivered to Lutheran World Relief in New Windsor. Final destination is predicted to be Honduras. Contents include: crayons, pens, pencils & scissors, rulers, folders, erasers, etc.
Join us at our monthly Flea Markets and be sure to stop by our food grill and enjoy a delicious burger, hot dog or Italian sausage. All proceeds from the grill support our Outreach projects for the entire year! Thanks to BJ's in Westminster for giving us $25.00 gift cards (June & July) to help offset our expenses.