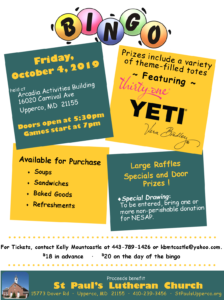 Music & Worship Planning Meeting
Monday , June 3rd – 1:30m -2:00p
Council Meetings
The upcoming council meetings are June 18th & July 16th at 7:00pm. Please give any topics for discussion to them before these dates.
St Pauls Upperco Pot luck Picnic, Sunday June 9th at 11:00am.
This is to celebrate with the youth being confirmed that day, and the start of our 225 events. The church will supply chicken & water. After the meal we will have games & fellowship.
Shared Ministry Gathering, Monday, June 24th, 7:00pm at Immanuel. Through this meeting, we hope to strengthen our partnership. Moving forward in our ministry requires vision and clear direction. We need to find ways to coordinate our ministries support one another and share our resources.
Flea Market, 8:00am – 2:00pm, Saturday, June 15th & July 20th.
Spaces still available. Registration forms are online at: http://stpaulsupperco.org/flea-market/
Immanuel Lutheran Church VBS "ROAR"
Monday – Wednesday (July 8-11) : Dinner at 5:30pm, VBS from 6-8pm. The Registration Form is available on Immanuel's website and Facebook page.
Bible Study
Bible Study will take a break over the summer and will resume in Septmber.
VBS "To Mars and Beyond"
Come join us Monday, July 22nd – Friday, July 26th from 9:00am – 12:00pm. Registration form or more info at: http://stpaulsupperco.org/vacation-bible-school/. All are welcome!