Church Events
BINGO Under the Pavilion
August 28th – Doors open at 3pm, games start at 4pm
Email bingo@StPaulsUpperco.org or call 410-790-7056 for tickets
$20 in advance.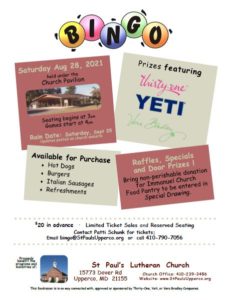 Church Services
Worship Services are in-person in the Sanctuary, Sundays at 9:30am.
Online Sunday Worships
Sunday worships are posted online on Sunday afternoons.
St Paul's Lutheran Upperco YouTube channel or Facebook Page.
Sunday School
Out for summer break. See you in the Fall!
Flea Market
We are so excited to let you know that state and county government officials have approved our Flea Markets at St. Paul's Lutheran Church beginning with May 15th! Click Here for more information. or email us at 
fleamarket@stpaulsupperco.org.
Bible Study 
Out for summer break. See you in the Fall!
Council Meetings
The council meetings are on the third Tuesdays at 7:00pm.
Please give any topics for discussion to a council member before these dates.