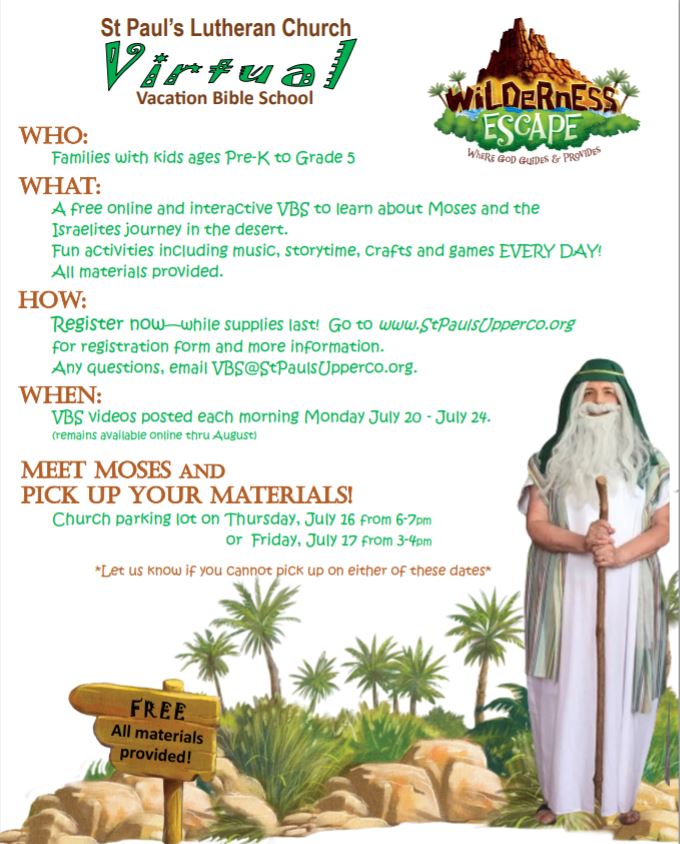 St Paul's is excited to announce that registration is now open for our new VIRTUAL VBS! While it may not be our traditional VBS program, it will be INTERACTIVE and FUN!
All materials will be provided FREE of charge.
This year's theme is "Wilderness Escape". Join us as we explore what life was like for the ancient Israelites. They've escaped captivity in Egypt…but now what?? We will visit with Moses, travel to marketplaces in the Israelite Camp, and play games as we race through the wilderness.
We are having a safe contact-less pickup on Friday, July 17th from 3pm – 4pm to see Moses and to get your family kits beforehand.
For more information email VBS@StPaulsUpperco.org.
Please consider donating; any monies donated help us to offset costs for the program materials.

-> Donate online via Tithe.ly: select VBS on the drop down (see below)
-> Send by mail: ATTN: VBS, 15773 Dover Road, Upperco, MD 21155